Ready to celebrate the arrival of 2023 in a big way?
If you are thinking of planning your New Year's Eve 2022/23 in Italy, and are looking for low-cost travel ideas, read our tips, and get ready to leave with Itabus for an unforgettable trip!
With Itabus, you can travel both day and night, taking advantage of all our on-board services: 4/5G Wi-Fi, power and USB sockets, toilets, snack and drink dispensers, and you can choose between a double travel environment and many different types of seats, for a journey of comfort and relaxation.
For Itabus passengers, there is also an on-board portal from which you can access exclusive and free content, including a platform of online courses held by top professionals on the skills most in demand in the job market.
Italy offers many destinations and possibilities to choose from to spend a perfect New Year's Eve: do you prefer the relaxation of a fire lit in the fireplace of a mountain chalet, or the dance music of a city disco?
From North to South Italy, here is our selection of TOP destinations for your New Year's Eve 2023. All reachable by Itabus:
1. ROME
A city of timeless charm, Rome offers many activities, including many free ones, for New Year's Eve 2023.
Thanks to its not-too-rigid climate, one can in fact choose to spend New Year's Eve outdoors in the centre, in one of the many squares offering concerts and countdowns with a view of the Colosseum, under the stars, or opt for one of the many restaurants or indoor venues, such as those in the Rione Monti district, a stone's throw from the Colosseum, Fori Imperiali and Piazza Venezia.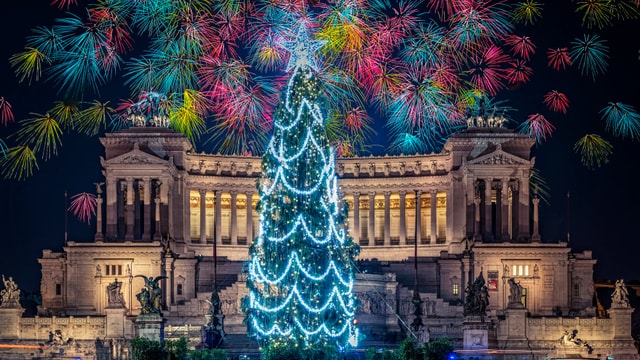 Discover all trips to and from ROME, from €1.99
2. MILAN

If you want to feel at the centre of the party, you cannot miss spending New Year's Eve in Milan!
There are plenty of places to spend the evening: fusion restaurants to eat great food while waiting for midnight, villas or castles where you can immerse yourself in a fabulous atmosphere, theatre performances such as the Nutcracker Ballet at La Scala Theatre, the mega concert in Piazza Duomo, or one of Milan's many discos.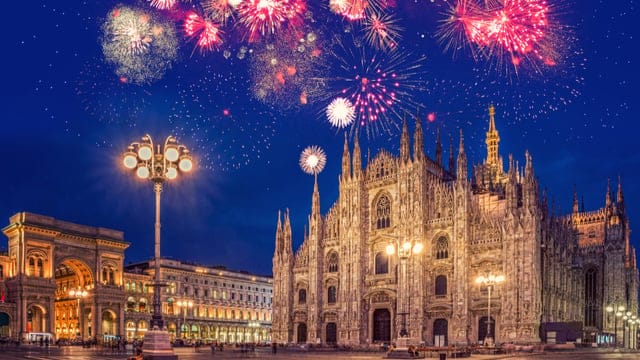 Discover all trips to and from MILAN from €1.99


3. FLORENCE

A city that offers culture, art, fashion, but also social life and great food. Book a New Year's Eve dinner in one of the many restaurants in the centre, where you will eat an excellent Florentine steak and the famous peposo.
For after-dinner entertainment, choose whether to opt for a celebration in Piazza della Signoria, or in Piazzale Michelangelo, from where you can admire the fireworks that light up the city at the stroke of midnight. You can also reach Piazzale Michelangelo on foot from the centre, passing by the Ponte delle Grazie and then along the Lungarno Benvenuto Cellini, and then up towards the Rose Garden.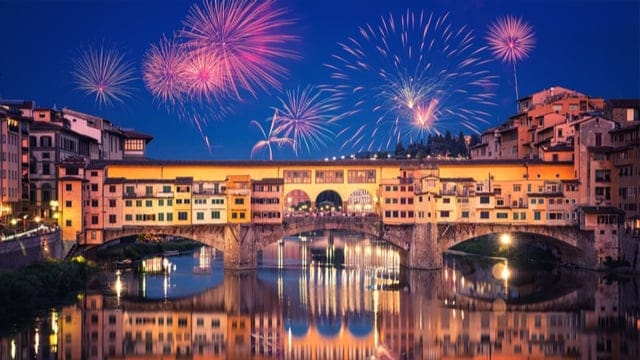 Discover all trips to and from FLORENCE from €1.99
4. TRIESTE

Trieste is a city waiting to be discovered: it is here that you will find the largest square in Europe overlooking the sea, Piazza Unità d'Italia, where you can greet the stroke of midnight with the classic toast and exchange of good wishes, and where you can admire the fireworks that colour the sky and sea with a thousand coloured reflections. In the centre you will find many restaurants where you can organise your dinner, just book a little in advance. Be sure to visit the Miramare Castle, the ideal backdrop for a New Year's Eve selfie.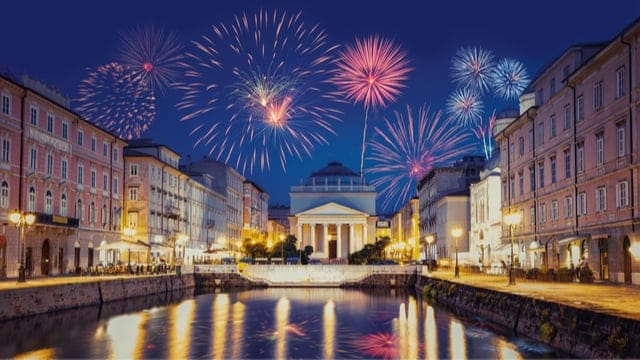 Discover all trips to and from TRIESTE from €1.90
5. GENOA
Genoa has a lot to offer on New Year's Eve: many opt for the concert in Piazza De Ferrari, where they wait for the fireworks while singing and toasting.
An interesting alternative is to have an aperitif and dinner at the Acquario di Genova, or to spend the evening at the Porto Antico, a wonderful location that is coloured with lights, sounds and fun for the occasion.
Here you will find circus shows, music ice skating rinks and a Ferris wheel, from which to admire the city on New Year's Eve.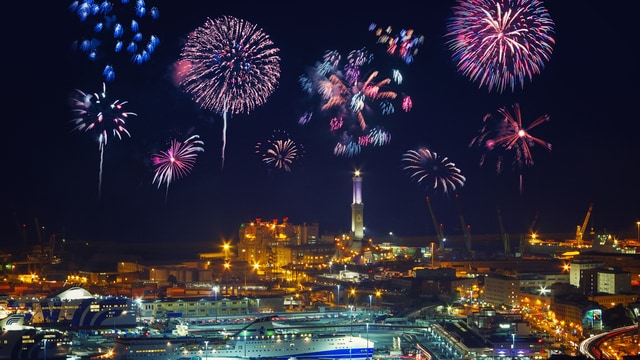 Discover all trips to and from GENOA, from €1.99
6. CATANIA

Catania is a perfect mix of art, culture, good food and mild climate. On New Year's Eve, if you are lucky, the weather is so nice that it doesn't even feel like December!
Lose yourself in its Baroque streets, the fish market, Piazza Duomo and Via Plebiscito, home of horse meat, or the Bellini Garden.
So many venues offer tasty and lively New Year's Eve dinners, you just have to choose!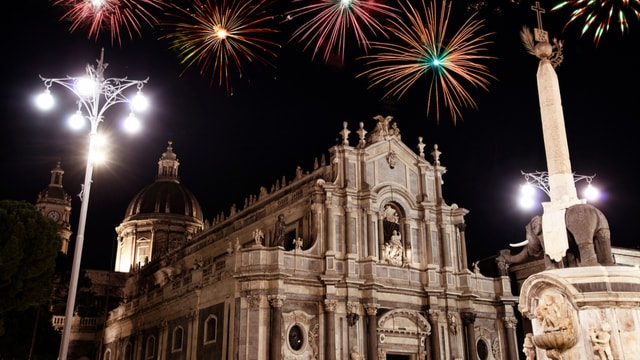 Discover all trips to CATANIA from €4.97
7. MERANO

If you love mountains in winter and Christmas markets, Merano is the location for you!
There are many proposals for New Year's Eve 2023, from the various typical restaurants in which to enjoy the traditional dinner, to the fireworks in the square and the classic toast in one of the many bars in Merano. Not to be forgotten is the spa, always open, for lovers of wellness.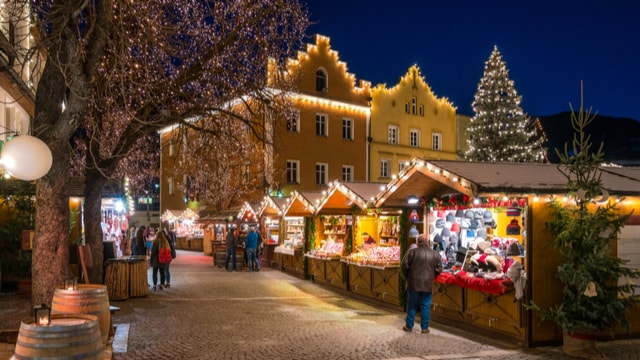 Discover all trips to MERANO from €1.99
8. NAPLES

Vesuvius behind you, the sea in front of you. In Naples, New Year's Eve is a big open-air party: celebrations are held in the streets of the city centre, in Piazza del Plebiscito and along the Lungomare, but there are also dinners, parties and fireworks.
Here you can eat the best pizza in the world, and lose yourself in the streets of the centre in search of the most peculiar local handicraft souvenirs, such as the famous Neapolitan Nativity scene characters made by the nativity scene masters of San Gregorio Armeno, known throughout the world as the 'Via dei Presepi'.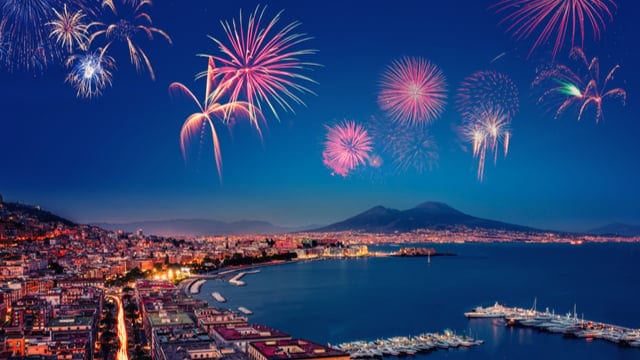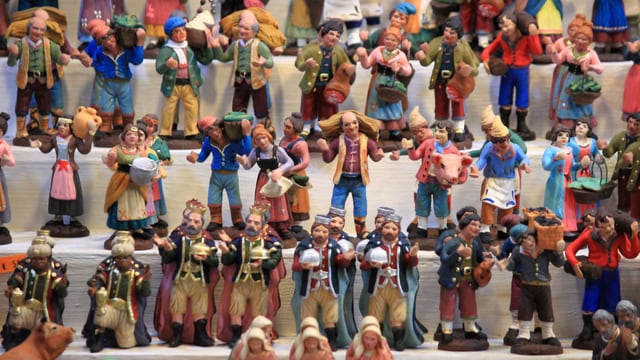 Discover all trips to NAPLES from €1.99
9. VENICE

After Carnival, New Year's Eve is the busiest time of year for tourism in Venice.
Experiencing the city at this time makes it even more magical. If you want to spend New Year's Eve on the water of the Venetian canals, then you should opt for a dinner on a boat, culminating with a midnight toast under St Mark's Square, which is truly impressive.
Alternatively, you can opt for an evening at the theatre, the casino, or in one of the many bacari, less crowded and less touristy venues.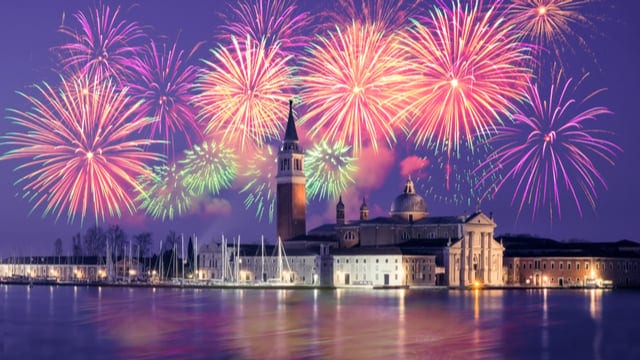 Discover all trips to and from VENICE from €1.90
10. TURIN

A city characterised by elegance and royalty, Turin remains one of the ideal destinations to spend a memorable New Year's Eve.
Many events are at your disposal: live music in Piazza Castello, a show at the Regio Theatre with Roberto Bolle, a party in one of the many locations, villas, restaurants, family events, medieval New Year's Eve and much more!
If you decide to spend at least a couple of days in Turin, you can visit the Holy Shroud, the Egyptian Museum, the Cinema Museum, the Mole Antonelliana and Venaria Reale.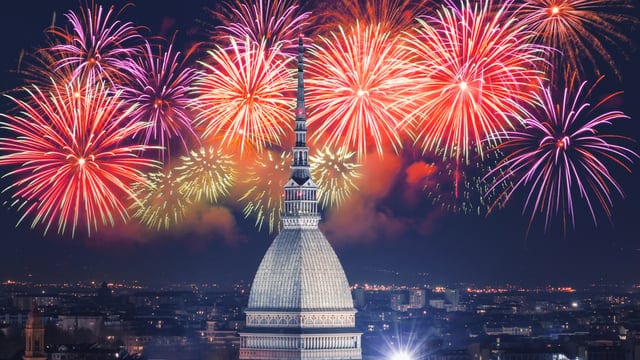 Discover all trips to and from TURIN from €1.90