Your travel experience on our buses will be unique, thanks to the comforts and quality services we offer. In particular:
- Comfortable reclining and distance-adjustable seats, with leather inserts, double armrest (on the side and central), footrest, electric sockets and light on every seat. For a totally relaxing trip.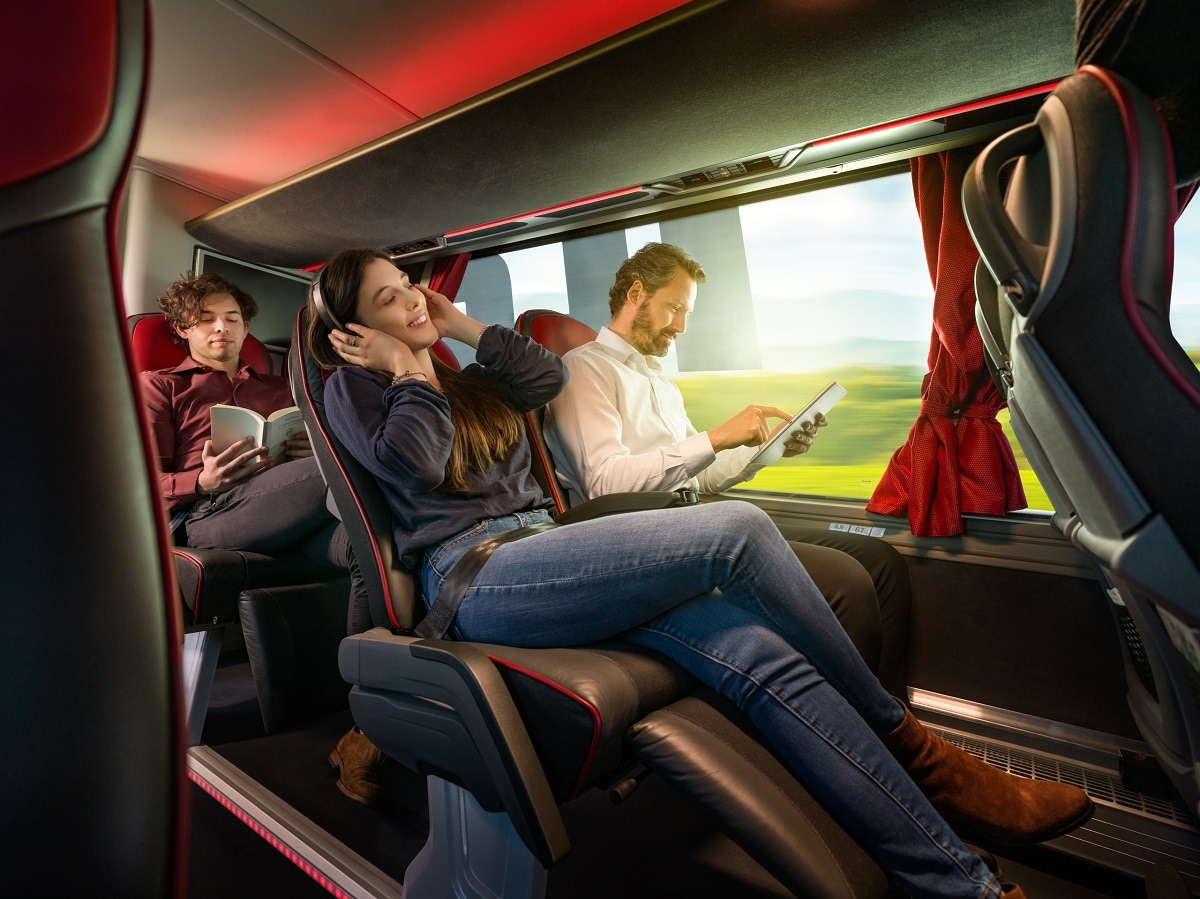 - Ultra-broadband 5/4 G Wi-Fi on the entire bus fleet, to let you watch your favourite films, chat with your friends, study, work or browse the web while travelling.
We selected the best on-board connectivity systems, and we are one of the first companies to use a technology (SD-WAN) integrating data traffic security, monitoring, check and optimization. Thanks to this intelligent system, on-board connectivity will provide the best performance, based on the mobile network efficiency, at any time.
- USB and electric sockets (220 V) on every seat, to connect and charge your devices at all times.
- Large space between side-by-side seats, both on single-deck and double-deck buses.
- Toilets.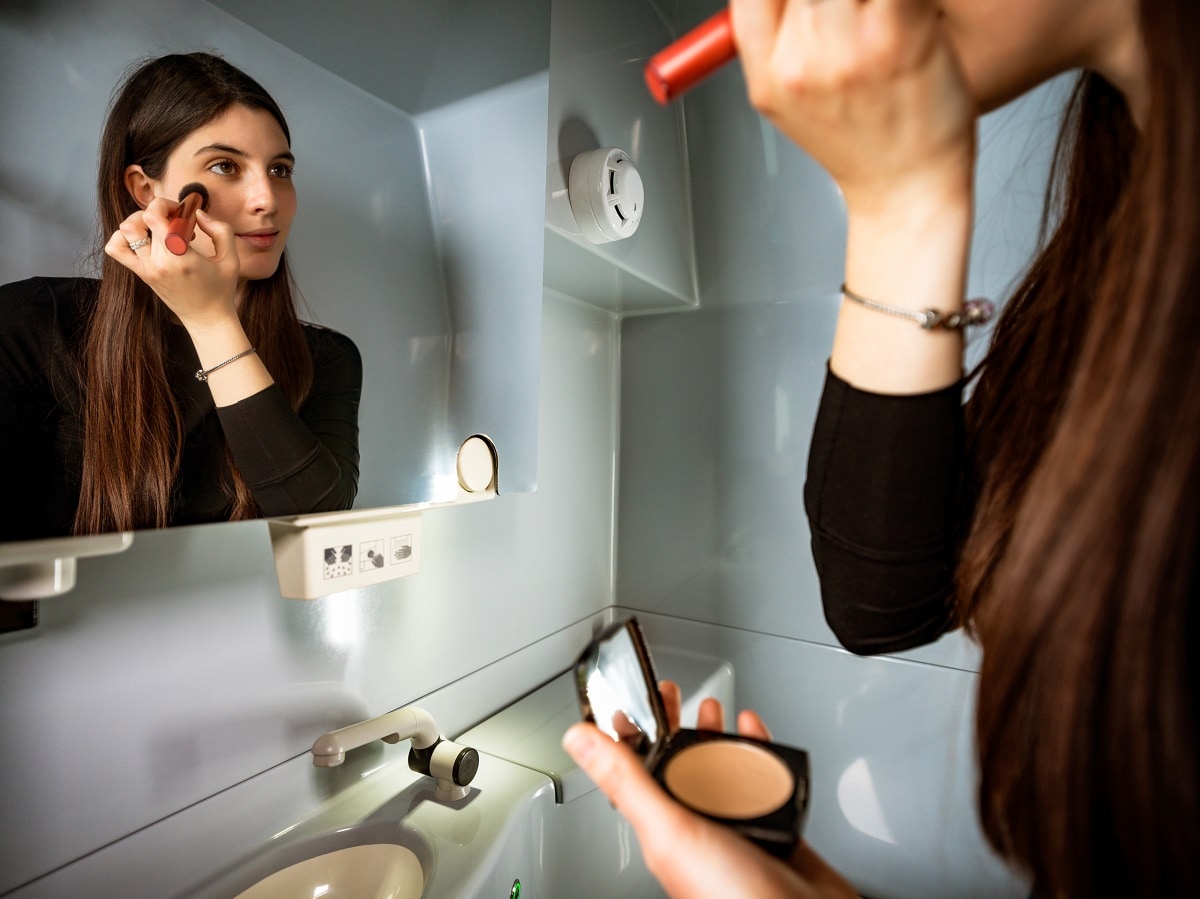 In addition, on our double-deck buses, you can enjoy the following comforts:

On the lower floor you will find:
- TOP seats with extendable backrest and footrest and even more legroom.
- Table area ideal for those travelling in a group or family, or for those who need to use their PC while travelling.
- Large panoramic window, special view for the first four seats.
- Vending machines on board, to get something to drink or enjoy a snack.
- 1 dedicated seat for wheelchair users.
While on the upper floor, a wonderful belvedere awaits you from where you can admire the view from the comfort of our leather seats.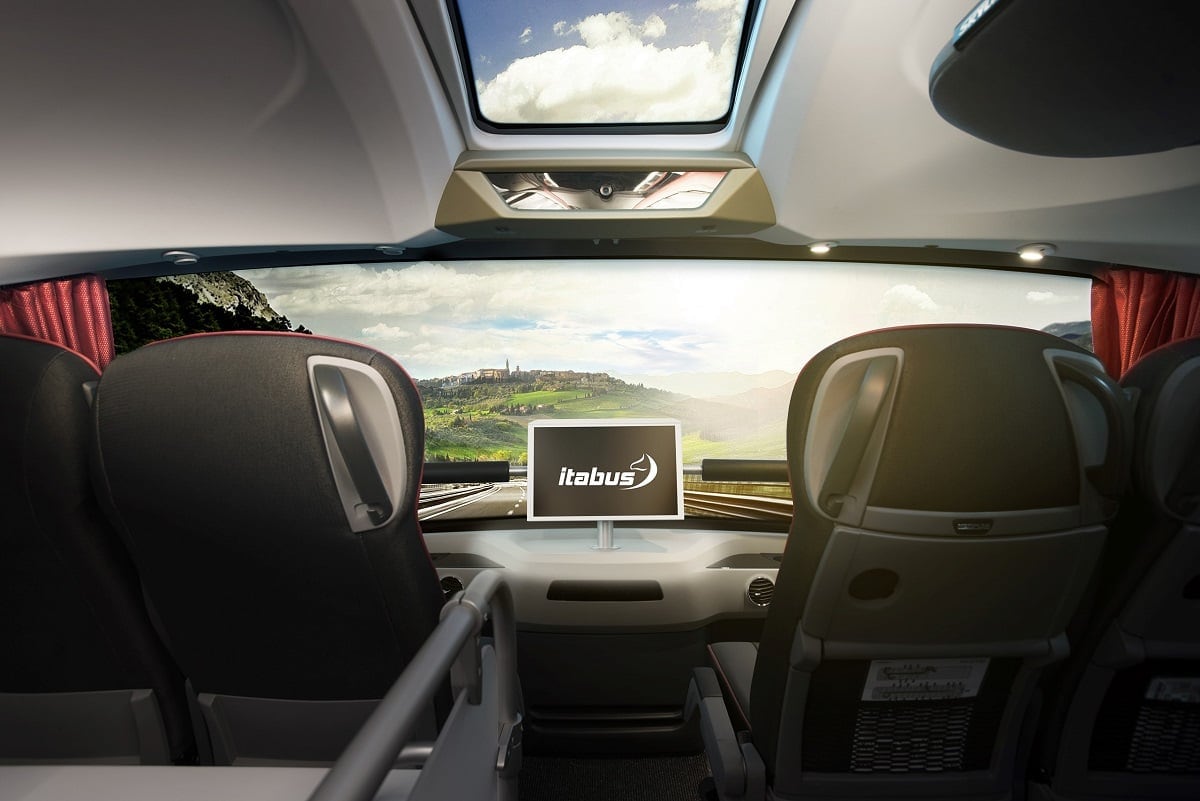 What enables us to offer you these comforts?
The modern and technologically advanced Itabus fleet consists of:
The single-deck bus MAN LION'S COACH, winner of the "Coach of the Year 2020" award, is both efficient and powerful. Its distinctive design and technological equipment make it a reliable and comfortable vehicle.
The NEOPLAN SKYLINER double-decker bus, which owes its name to the unique roof dome that turns the upper deck into a panoramic terrace on two wheels. Extremely well-maintained and equipped with every comfort; on the lower floor we have created a very cosy area for you, consisting of the Table Area and the TOP Area, where we achieve the ultimate in comfort thanks to even more widely spaced seats and seats with extendable footrests.
Both solutions can be reserved at the time of purchase, where available.
The 24/7 monitoring room.
This state-of-the-art control room is used to supervise all stages of the journey in real time and provide a smooth service: we can check the status of the buses at all times and have up-to-date information, to make your travel experience with us peaceful and safe.
Cleaning services with high quality standards and frequent vehicle checks.
We rely on specialised companies to carry out thorough internal and external cleaning of the vehicles every day, and we are committed to ensuring that our buses always leave at peak performance: they are subject to frequent and scheduled maintenance, so that you can leave and travel in total safety.