At Itabus, we have provided for 4 different types of luggage in order to satisfy all our passengers' wishes.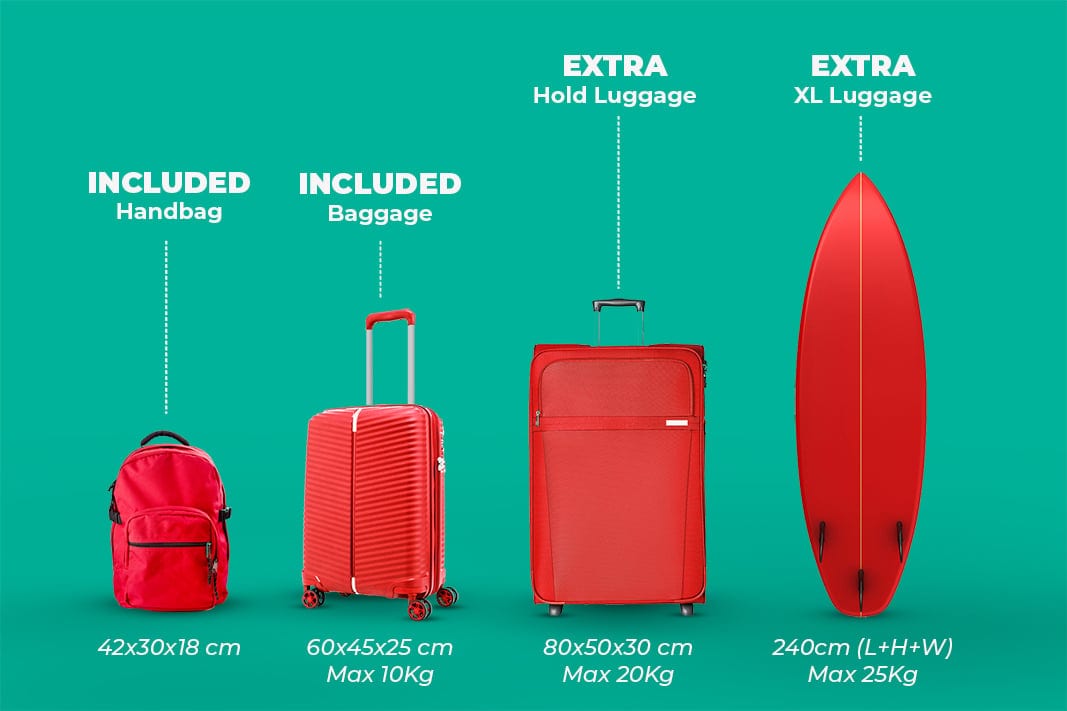 Travelling with Itabus you can take free of charge:
1 Hand Luggage
maximum dimensions 42 x 30 x 18 cm, to be placed in the hat box or under the seat.
1 Hold Baggage
maximum dimensions 60 x 45 x 25 cm (or 130 cm overall), up to 10 kg weight.
Do you want to add more luggage?
Travel with as much luggage as you wish, choosing between two types of additional luggage: Large Baggage or XL Baggage.

Large Baggage
maximum dimensions 80 x 50 x 30 cm (or 160 cm overall), up to 20 kg weight

Add large luggage to your trip

You can add it at the time of booking or later.
Adding them when booking is worthwhile.

See the price table here.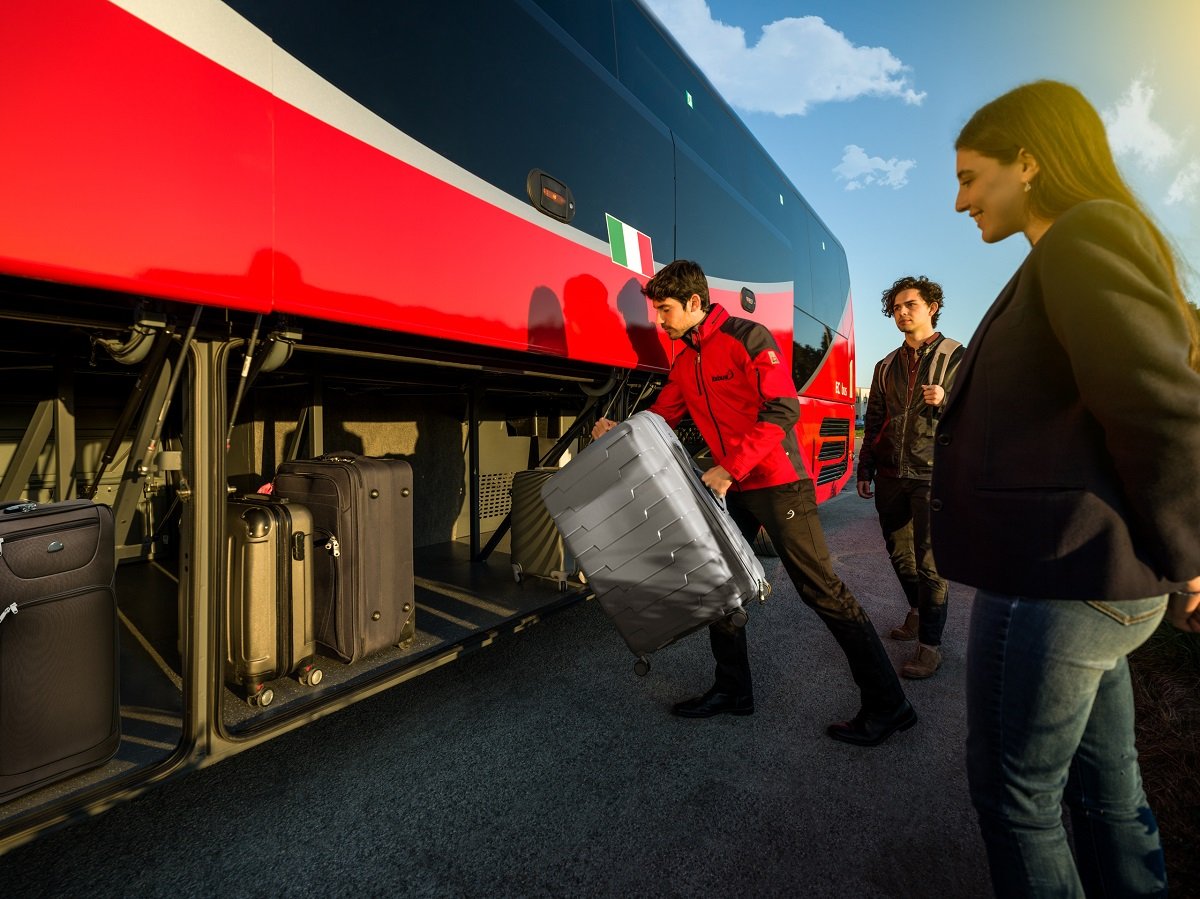 XL Baggage

maximum dimensions up to 240 cm (given by the sum of height, width and depth), and weight up to 25 kg.
The following can be considered as 'XL Baggage':
- bicycles (non-electric);
- surfboards;
- ski equipment.

You can add it at the time of booking or later. By adding it now you save money and have a better chance of finding space for your XL luggage!
See the price table here.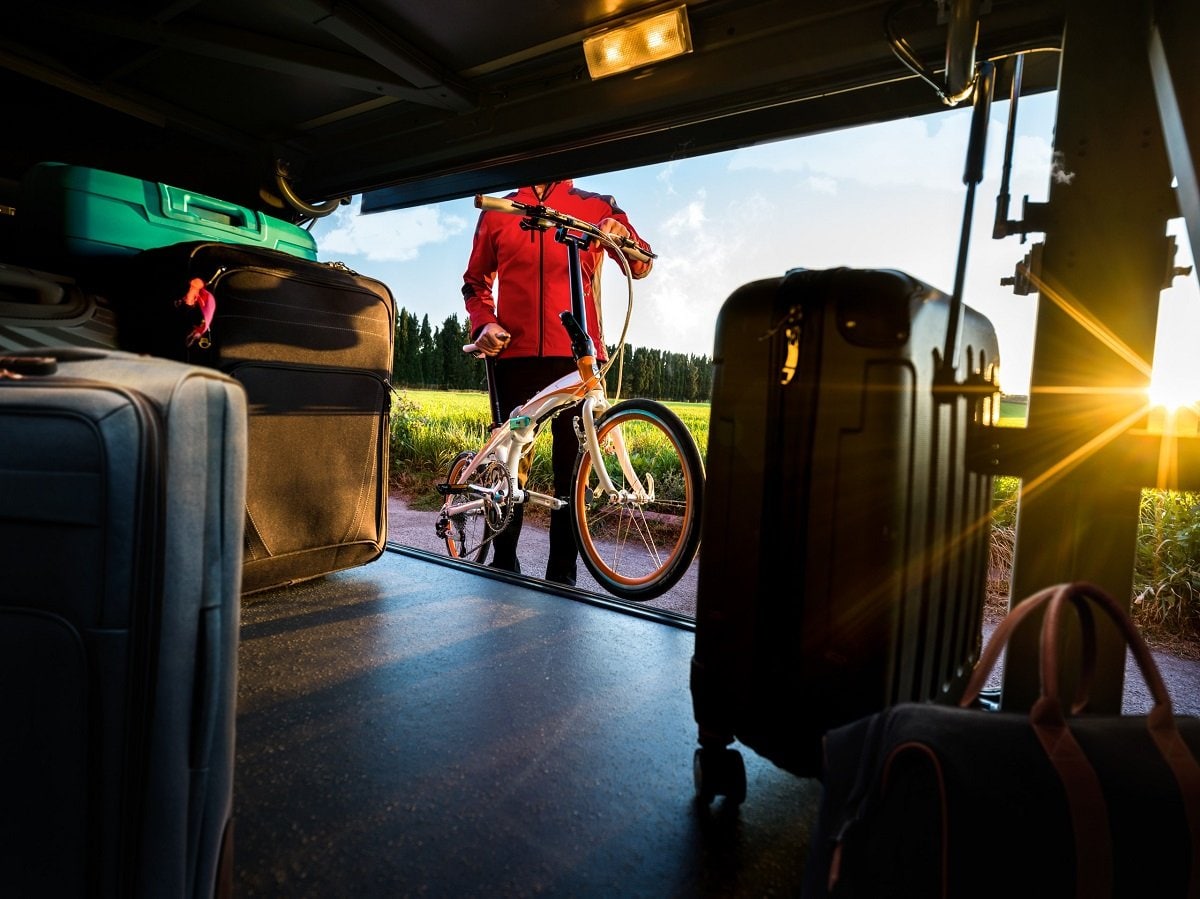 Other types of luggage and pets
MUSICAL INSTRUMENTS
Do you love music and can't stay away from it? Don't worry, you can even bring your own musical instrument on board our buses.
You can consider it as hand luggage if it meets the above dimensions, in which case its carriage is free of charge. But what if it exceeds these dimensions? Purchase an additional ticket for your instrument now and book a seat next to yours, as long as it does not exceed 150 cm (sum of height, width and depth) and 10 kg in weight.
STROLLERS
If you are travelling with children, you can bring pushchairs on board our buses free of charge. Please note, however, that they must be foldable and only one per person may be taken on board.
WHEELCHAIRS
Wheelchairs also travel free of charge on our buses. Check the availability of wheelchair transport in the hold or in the passenger compartment by filling out the dedicated forms.
ANIMALS
With Itabus coaches you can bring an animal on board, as long as it weighs max. 10 kg, is properly vaccinated and has a health certificate.
For your pet, you will need to add an adult passenger at the time of purchase, indicate the name of the pet's contact person when asked to enter the passenger's name, reserve a seat next to yours and have it travel in a special pet carrier with a maximum size of 30x30x40cm, to be kept next to you at all times.
If you are accompanied by a guide dog, your four-legged friend travels free of charge on our buses and you do not have to keep it in the carrier.
You may travel with a maximum of one animal per passenger.
Useful information

Each passenger may only purchase one piece of luggage of each type.
Space for luggage is limited. Especially XL luggage, the sooner you add them the greater the chance of still finding room in the hold.
Adding luggage at the time of booking costs less than doing so later. Find all prices here.
Store valuables (documents, electronic devices, etc.) in your hand luggage and always remember to label all your luggage with your name and address.
We advise you throughout your journey to take care and pay attention to your luggage. Before leaving the bus, don't forget to check your belongings to ensure that nothing is missing.
For more information, see our Conditions of Carriage.
Journeys operated by partner carriers are subject to specific conditions of carriage, which can be consulted here.
How can you add luggage to your journey on an Itabus coach?
While booking your trip on the website or App (Ios or Android)
After booking, from the Personal Area or the Booking Management section on the website or App (Ios or Android)
By calling our Customer Service
On board
At the ticket office or participating PuntoLis tobacconists
You can find all prices here.